Obstructive sleep apnea – what does it take to conquer this loathsome sleep disorder? For one, it takes compliance. Night after night, you must undergo CPAP treatment, or else it won't work. But what happens when you can't plug in? In the west, you have earthquakes – what happens if the power goes out? In the mid-west, you have tornadoes – what happens when you have to duck for shelter? Some of us like to go camping – what happens when you are deep in the wild? The point is that compliance can be threatened by not having an adequate source of power, which is why every CPAP user can't live without a battery pack.
What Is The C-100 Battery Pack?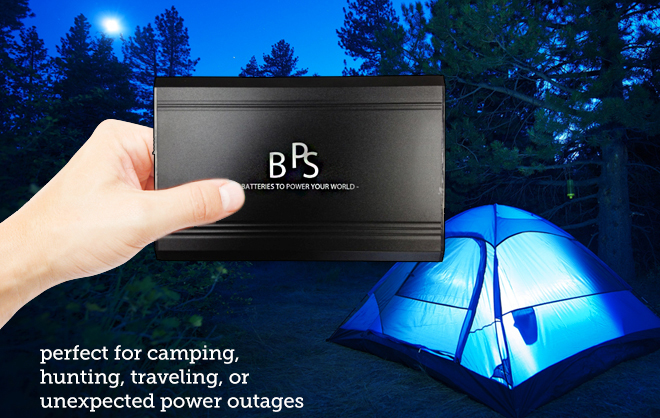 The C-100 is the essential CPAP companion – it's a lightweight and powerful external battery that allows you the opportunity to power your CPAP machine no matter where life happens to take you. During a summer blackout, the power could go off for several days.  And what happens when the guys want to go on a spontaneous hunting trip – do you want to really say no? The C-100 is a lithium ion battery, which means that it packs a serious punch – a single C-100 battery will give you up to twenty hours of usage. You could even pigtail two together for twice the amount of juice. The C-100 is also extremely lightweight – less than two pounds – and thin as a wafer, so you can literally take it anywhere. As an added bonus, it can also be used to power your cell phone in those instances where you need a little extra juice.
Who Needs the C100 Battery Pack?
Everyone who suffers from sleep apnea and undergoes CPAP treatment needs the C-100 Battery pack – you can't always rely on the grid. In California, there is a 45% chance that a catastrophic earthquake will occur in the next five years. During the spring months, tornados ravage the Midwest and parts of the South. Blizzards take over the Northeast in the winter – remember all those recent cold weather spells in New York and New England? And much of the South, like Texas, is affected by hurricanes. During these calamitous events, the power could go out for several days. On the other side of the coin, though, you'll also need a CPAP battery during less disastrous circumstances, like a camping trip into the woods or a last minute redeye flight. Who knows when your boss will tell you to hop on a plane to meet a client on the other side of the world, but you better have your C-100 Battery Pack locked and loaded.
What Other Supplies Do I Need Besides a Battery Pack?
Attention all travelers – on top of keeping your C-100 in your carry on bag, you also want to have a supply of adapters, so that you can plug in your CPAP and charge your battery when you are traveling internationally. Indeed, different countries have different outlets, so you'll need an adapter to power your CPAP. For instance, the 5 Piece International AC Plug Converter gives you a set of adapters for five different regions: Europe, Middle East & Africa, Asia Pacific, South America, and South Pacific. That's right, from the Kalahari Desert to Bora Bora, you can still plug in. If you are the kind of person that likes an all-in-one package deal, you may want to pick up the TraveLite Adapter-Ultra Compact All-In-One Travel Adapter, which will allow you to power up in over 150 countries and locations around the world. It should also be noted that if you use a CPAP machine made by ResMed, you will need the 150 Watt Sine Wave Inverter if you want to utilize the CPAP battery pack – you can also use this inverter to charge your battery pack via the cigarette lighter outlet in a car, which is perfect for those long road trips. And if you happen to be using the S9 AutoSet from ResMed, you can use the S9 24 Volt Converter, which will allow you the opportunity to power your CPAP and still enjoy your vacation.
At the end of the day, you want to purchase a CPAP battery, because you never know when you'll need it – it's as simple as that. Just think back to that miserable time – before you started undergoing CPAP treatment. Remember the miserable mornings of feeling exhausted, fatigued and dazed. Remember the fitful nights of sleep and waking up with your partner telling you to put a sock in it because you are snoring too loud. Remember the look on your boss's face when you took that nap during a business meeting. If the power goes out or if you are spending any length of time away from the grid, you'll want a source of power to plug in your CPAP. In fact, you should have a backup battery in your home and your car – ready to go at all times. In the end, you just shouldn't leave home without one.